It's a pajama party! And I know you are all going to love the new outfits because I get tons of requests about new pajamas all the time! What makes them so popular? :) Everyone loves to look stylish and comfortable at the same time! I know I do ;) Here's what inspired me this week.
The inspiration for this outfit first came from a picture of Twilight's Kristen Stewart. Despite gossip rumors surrounding her lately, there is one mistake she has never made: bad hair! I saw this picture of her and fell in love with her luscious mane that reminds me of a lioness! RAWR! But the best part? It looks so effortless – totally what you want when dressing for a pajama party!
Second, those fair isle leggings! I'm in love! I've always been a firm supporter of not wearing leggings as pants which is why I paired these with a long top! These adorable leggings remind me of Christmas and the feeling of a warm cozy night in with some hot coco!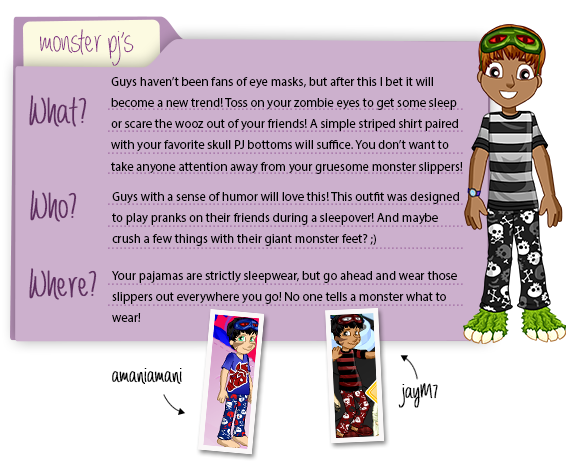 The inspiration came from this funny sleep mask I found online! Max actually bought the real version LOL. I didn't even think it was a real sleep mask, it kind of looks like it could be for Halloween too.
Ditto for the slippers! This whole outfit is just too adorable! These slippers we found online look more like an animal's clawed feet so I decided to make my Woozworld version more like a green monster.